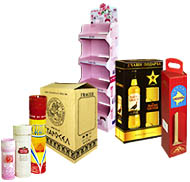 Skat Print Factory began manufacturing packaging and shelving out of card stock and cardboard in 1995 as a family business that still operates under the same ownership with the same high standards. Our ethos is to run an ecologically friendly family business that evolves alongside our clients and the global market.
Our portfolio runs deep with long tenures as partners of leading brands such as Coca Cola, Johnnie Walker, Finlandia, Jack Daniel's, Stella Artois, LIDL and many more.
In order to provide our clients with high-quality products, we. use precision-made machines from leading companies in the printing world and stay up-to-date with the technological demands of our client base.
At Skat Print we are equipped with our own production line for manufacturing durable micro-corrugated cardboard with a thickness of 1.6 mm and cardboard with a thickness of 1.00 mm.
Skat Print Factory specializes in the production of shelves, stands, and stoppers, display signs, boxes and moving boxes for wine and spirits, cardboard boxes, food-grade packaging and packaging for perfume, cosmetics, etc.
Skat Print Factory has the equipment needed to manufacture boxes with an exposed corrugated layer.